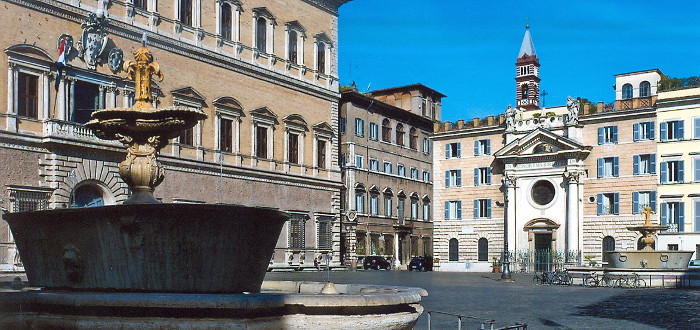 The first monastery of the Order of the Most Holy Savior of Saint Bridget was founded in 1369, when special delegates sent by Bridget from Rome with the task of starting the work of transformation in a monastery of the royal castle of Vadstena (Sweden), donated to Saint Bridget in 1346 by King Magnus Eriksson. In the years 1375-1380 Catherine, daughter of Bridget and first Abbess of the monastery, laid the necessary legal foundations of the new Order in Rome. The Rule practiced by the religious of Vadstena was one of the first revelations of Saint Bridget, shortly after the death of her husband Ulf Gudmarsson.
Soon Bridgettine monasteries spread throughout Europe. During the reformation period, the Order founded by Saint Bridget came to halt in its expansion and began a slow decline in various countries, including Italy. A return to the full spirit of the Rule of Saint Bridget has been implemented, through the work of Saint Maria Elizabeth Hesselblad, Swedish Lutheran, converted to Catholicism in 1902 in the United States of America. She began to restore the Order in Rome in 1911, firmly rooted on the ancient Bridgettine tradition of the contemplative aspect, the solemn celebration of the liturgy, the apostolic work and the commitment to work for the unity of the Church.
The new Foundation expanded from Rome to the following countries, besides in Italy: Switzerland, Sweden, United Kingdom, Denmark, Norway, Finland, Estonia, Poland, Germany, Holland, India, Palestine, Israel, Philippines, Indonesia, USA, Mexico and Cuba. Today the Order counts 57 convents and about 600 religious. Saint Maria Elizabeth Hesselblad died in Rome on 24 April 1957, beatified on 9 April 2000 and canonized on 5 June 2016.